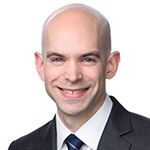 A Long Island native, Dr. Frederick Gandolfo graduated with a BS in biology from Fordham University in Bronx, NY.  He attended SUNY Stony Brook School of Medicine.  He completed internal medicine residency training at New York University.  He continued at NYU for gastroenterology fellowship and was awarded fellow of the year.  Dr. Gandolfo is board-certified in internal medicine and gastroenterology.
After practicing in a large group for several years, Dr. Gandolfo decided to go solo in 2018 and started his own practice, Precision Digestive Care, located in Huntington, NY.
Dr. Gandolfo lives in Long Island with his wife and two children. Most of his time outside of medicine revolves happily around doing dad stuff, but he is also an amateur photographer, fitness enthusiast, frustrated writer, and empiricist at heart.