As a child growing up in the 1980s, I remember my father talking about lentil soup often. It was spoken of with nostalgia on a cold night ("Oooh, I could really go for a hot bowl of Grandma's lentil soup right about now!"), but it was also used as a reminder to his young spoiled children of just how good they had it ("You should be happy to have that chicken for dinner–when I was a kid I was lucky to get a bowl of lentil soup!"). My mother cooked almost every night of the week: However, as a child I can only remember having lentil soup on one or two occasions…
Fast-forward to May 2020, and we are living in strange times indeed. Society has been "on pause" for the past 2 months due to the coronavirus pandemic. Family budgets are growing tight and it's no longer a good idea to make frequent trips to the grocery store every time you need an ingredient. Many restaurants are closed, and most people are rediscovering home cooking by necessity. Like many people, I used to really enjoy cooking when I had the time to experiment and there was no real pressure. After all, it was just my wife and I: We were happy to eat whatever, whenever!
But that was a long time ago! For years now, due to spending most of my daytime hours at work, cooking has become more of a novelty thing that I will do once every month (or less), and usually involves a grill. (The kids can't eat at nine-o'clock in the evening either…there is a schedule to follow after all.) But then COVID-19 came along and now there is a whole lot of time to cook again!
On a darker note, people say we are heading towards another depression, and I don't doubt it. So I asked myself the question: "Can we learn something from the past to help us with where we might be going?" Well of course the answer is YES! I wonder what some of my relatives did who actually lived through the Great Depression…
My Grandma Carmela was born in 1927 in Brooklyn, and would often talk about growing up as a child during the depression. Stories about how work was scarce, and how young children had to take over major household responsibilities since their mothers and fathers were working. And there were always a lot of stories about food. Nothing gourmet, simply what Grandma called "Italian peasant food" which she would say with a laugh. (My cousin Peter published some of her stories and other recipes in the short book Cent' Anni in 2011.)
So I gave Grandma a call. As you might expect, she doesn't have any true recipes written down. Her philosophy is to "use whatever you have on hand" and therefore no two batches of anything are ever the same. I asked her how she made her lentil soup and she gave me the bones of the recipe below.
Here is the recipe for Grandma's Lentil Soup, graciously recounted by her daughter Christine, and with my own slight modification here and there, using what I had on hand:
---
Grandma's Lentil Soup, circa 1947
| | | |
| --- | --- | --- |
| Serves 6 | Active: 45 min | Total: 2 h |
Ingredients:
½ bag dry (brown) lentils
2 carrots, chopped
1 celery stalk, chopped (add some celery leaves, chopped)
1 medium onion (I used ½ large Vidalia onion)
1-2 cloves of garlic
½ cup tomato sauce or 3-4 diced plum tomatoes
about ½ small head of escarole or other greens, washed well and chopped (I used spinach)
1-2 tbsp olive oil
salt and pepper to taste
water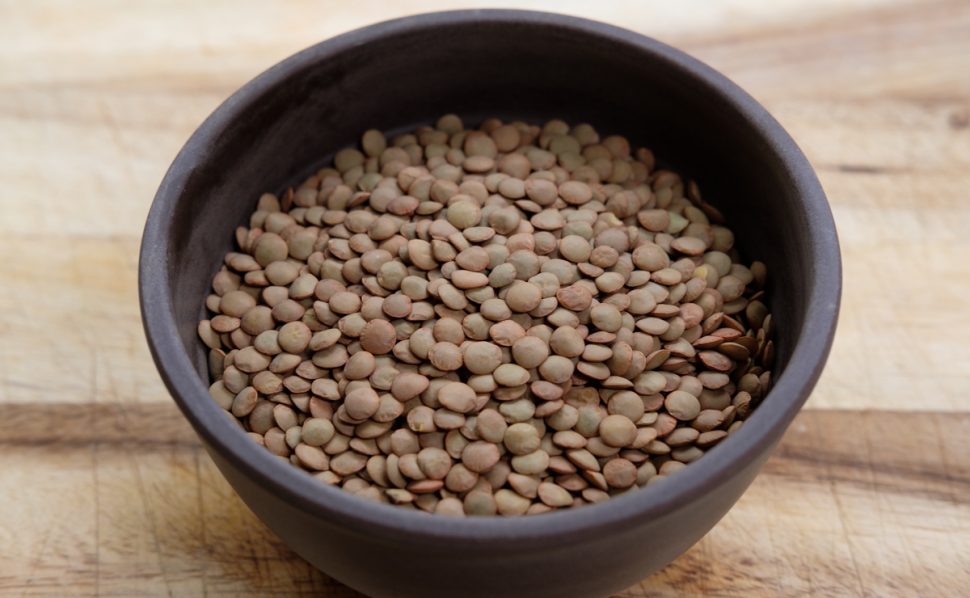 Lentils do not need to be soaked overnight, although you can soak them.
Pick over the lentils and watch for small stones and/or clumps of dirt that look like lentils.
Rinse the lentils in cold water, drain, then place in a soup pot. Fill with water to cover the lentils by about 1 inch.
Cover the pot and bring to a boil over medium heat. Once boiling, remove from heat but let the beans sit covered in the pot for about 1 hour. (You can skip this step if you already soaked the beans overnight). After 1 hour of soaking, drain the beans and set aside.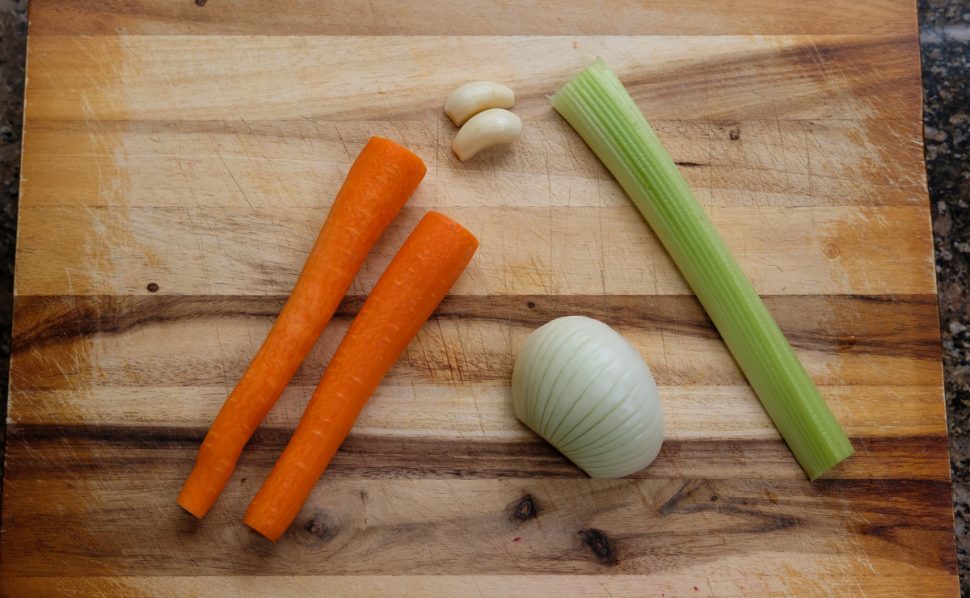 While the lentils are soaking, chop the onion, garlic, carrot, and celery. Heat the olive oil in a large pot over low-medium heat, then add the onion and saute for about 5-8 minutes until the onion starts to lose some size and begins to become soft. Then add the garlic, celery, and carrot and continue to saute for about 15-20 minutes or more over low heat. The goal is for the vegetables to lose most of their water and slowly blend into the flavorful magic known as soffritto. Try not to brown the vegetables until they have reduced down to at least ½ of their original size. (This is a matter of taste, you can leave them just barely translucent and not browned at all. I for one like caramelized browned bits!)
After the soffritto is cooked down and starting to become golden, add the greens. Toss, then add the tomatoes or tomato sauce and heat everything through. Salt liberally to taste. Add some black pepper, dry basil and/or oregano for taste.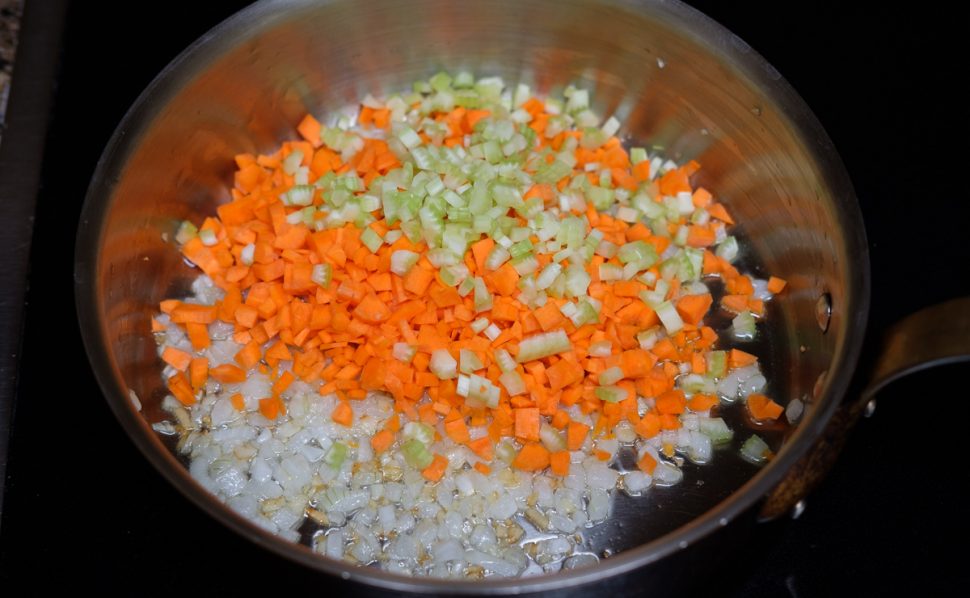 Now add the lentils to the pot with the vegetables. Cover everything with water (make sure to scrape the bottom of the pot to get all those brown bits of flavor into the soup). Add enough water to make a "watery" soup. The lentils will expand a little more while cooking.
Simmer for about 45 minutes to 1 hour. Add more salt and pepper to taste.
Meanwhile, boil and salt water in a separate pot. Cook a few handfuls of small pasta such as ditalini, orzo, or elbows until al dente.
Add a scoop of cooked pasta to each person's bowl immediately before serving and then ladle in a generous amount of lentil soup. Serve hot!
This recipe is vegetarian. If you want to add some meat for more flavor (although it doesn't need it), add a small amount of sausage, ham, or bacon when you are cooking the onion.
---
This healthy and flavorful meal costs only a few dollars and can feed the entire family. In the age of the coronavirus, it's time to embrace some of the old-fashioned ways again!
Please share some of your favorite cheap and nutritious recipes below!