March is a big month, with a lot to cover…after all March is Colorectal Cancer Awareness Month!
On March 1st, the team from Winthrop-University Hospital commemorated the event by meeting with Nassau County Executive Ed Mangano to illuminate in blue the dome of the Theodore Roosevelt Executive and Legislative Building in Mineola, NY. Read the official press release here!
[hr]There are two colorectal cancer-related events coming up this week at the hospital. On Friday, March 10th, we have put together an afternoon CME event for healthcare professionals titled Updates in Oncology for GI Malignancies: Colorectal Cancer Symposium. We have some excellent outside speakers lined up and it will be a great way to end a long work week for us GI docs, surgeons, oncologists, and related professionals! Registration is still open, details are here.
The following day, Saturday, March 11th, Winthrop is hosting Colon Cancer Awareness Day which is an educational event for the community. I will be presenting lots of info about colon cancer prevention, with tips about diet and lifestyle, as well as information about colonoscopy and other screening tests. Other doctors will be speaking, there will be patient testimonials, and plenty of opportunities to ask questions. The event is free and open to everyone, but you must register: Please click on the flyer below for details!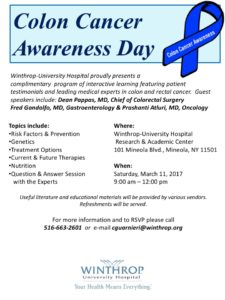 [hr]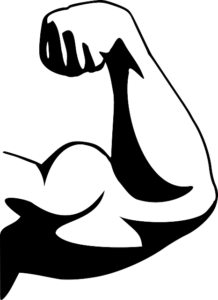 Speaking about awareness, have you heard of the "Strong Arm Selfie"? Basically, just take a picture of yourself flexing your biceps and post it on Facebook and Twitter with the #StrongArmSelfie hashtag…Bayer will donate $1 to Fight CRC every time the picture is shared or retweeted! It's a pretty easy thing to do to raise some money for a good cause…sometime this month I will post mine and I encourage you to do it too! Make sure to follow me on Facebook or Twitter to see me put the "flex" back in Retroflexions!
[hr]If you haven't read the "Know the Guidelines" series I wrote last year around this time, it might be a good time to revisit these articles about screening for colorectal cancer. If you know all this stuff already, go ahead and share them with a friend who may be contemplating getting screened!
When to start colorectal cancer screening?
How often do you need to repeat a negative colonoscopy?
When do you stop screening for colorectal cancer?
[hr]OK, enough about the past…let's move on the the future: Here is what is in store for you later this month on Retroflexions:
Coming soon is an article on how to prevent colon cancer with diet and lifestyle changes, by Registered Dietician Stefani Pappas. You can find more of her excellent writing on her site Stef Health Tips.
I will attempt to answer a question that was submitted to me about a year ago by a physician reader, a question about the very core of what we are doing with colonoscopy and if it really helps anyone at all? That might be a two-part post…


And I almost forgot to mention…Retroflexions turned two years old this month! I promised myself to do this for a minimum of two years, and here we are! Thanks for growing up with me, and here's hoping for many more birthdays to come! Don't miss anything…stay connected on social media or better yet, subscribe and I'll send the goodness to you!